LivePocket

FESTGROUND
| | Release dates | GA 3DAY | GA 2DAY | GA 1DAY | VIP 1DAY |
| --- | --- | --- | --- | --- | --- |
| Tier 4 | 03/22 (Thu)18:00 | ¥42,000 (tax incl.) | ¥29,000 (tax incl.) | ¥15,000 (tax incl.) | ¥30,000 (tax incl.) |
| Tier 3 | 03/08 (Thu) 18:00 | ¥40,000 (Regular price ¥45,000) | ¥28,000 (tax incl.) | ¥15,000 (tax incl.) | ¥30,000 (tax incl.) |
| Tier 2 | 02/07 (Wed) 18:00 | ¥37,500 ( Regular price ¥45,000) | ¥26,000 (tax incl.) | | |
| Tier 1 | 12/22 (Fri) 18:00 | ¥36,000 (Regular price ¥45,000) | – | | |
CONTACT Kyodo Tokyo
0570-550-799
Weekdays:11:00 ~ 18:00
Sat, Sun, and holidays :10:00 ~ 18:00
[Age Restriction]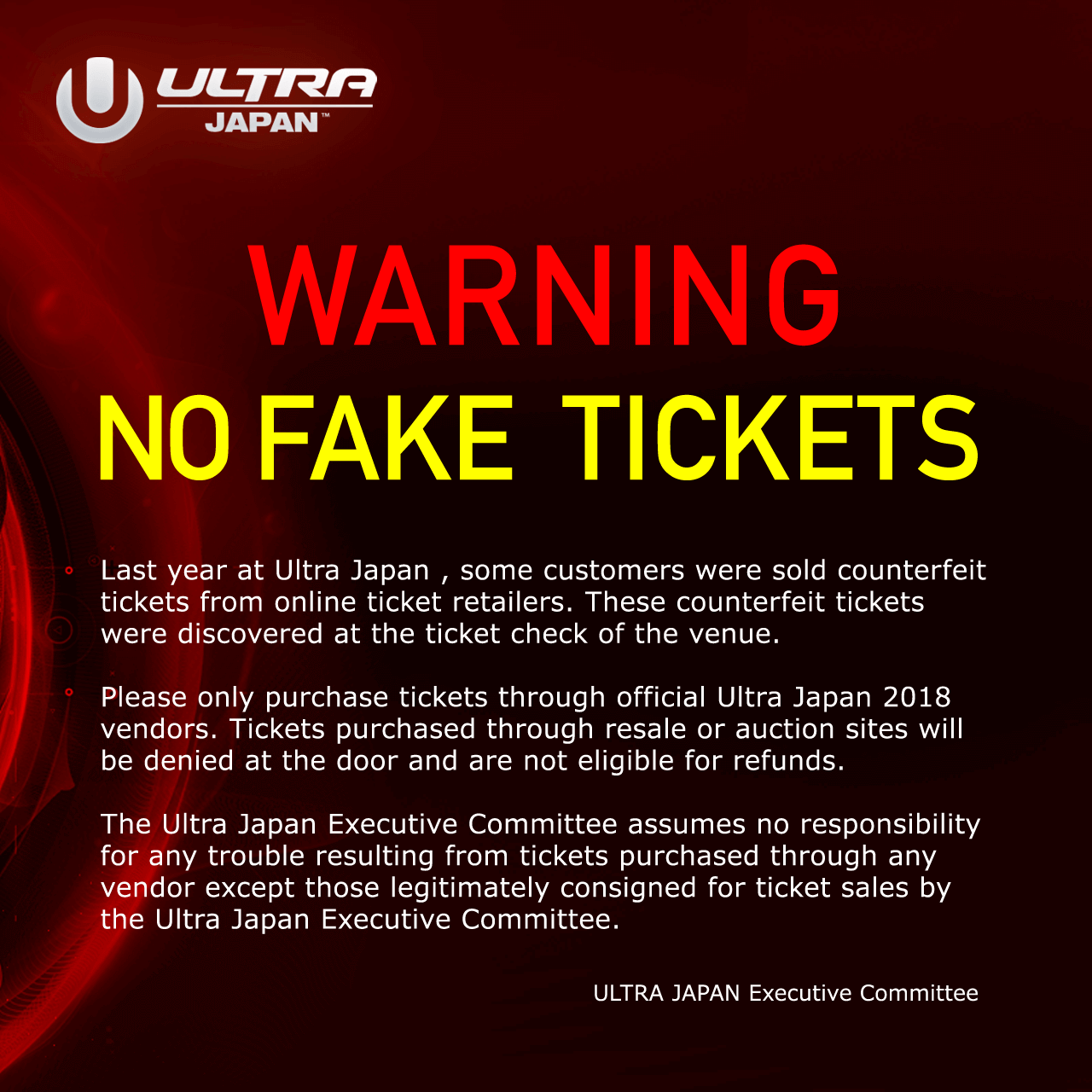 ・Guests under the age of 20 will not be admitted.
・Guests must show valid photo ID(*1) to enter the festival.
・Guests without valid photo ID will be denied admission without refund.
(*1) Driver's License, Passport, Social Security Card, Basic Resident Registration Card, Special Permanent Resident Certificate or Alien Registration Card are valid forms of photo ID.
[General Policies]
PLEASE READ CAREFULLY.
・All customers attending this event must be at least 20 years old.
・You must present a valid photo ID at the entrance of the venue.
・The festival/event is intended to be a friendly and enjoyable event.
・The reference number on the ticket does not indicate the order of entry. Priority will be given to guests with tickets purchased in advance.
・Artists are subject to change or withdraw. In the event of such change, refunds will not be given.
・In certain circumstances some areas within the venue may become restricted.
・The organizers, promoters, and artists are not liable for any compensation and/or cancellation charges for travel expenses resulting from the festival/event being cancelled or postponed.
・Whistles, vuvuzelas, and all other noisemakers are strictly prohibited.
・Any outside food or beverage is strictly prohibited inside the festival/event.
・We will refuse entry to guests who are severely intoxicated, clearly affected by drugs or deemed unfit for entry. Any guests found to possess illegal substances, weapons and/or other prohibited items will also be refused entry. Anyone found carrying these items will be reported to the police immediately. No refunds will be given.
・Guests who are behaving in a disorderly, offensive or inappropriate manner, and guests who refuse to obey instructions/warnings from festival/event staff will be removed from the festival/event immediately. No refunds will be given.
・Any attempt to enter the festival/event without a valid ticket or valid credentials will result in the immediate removal from festival/event grounds. In certain cases we will contact police and press charges against the violators.
・Anyone removed from the premises for the above reasons will not be allowed back in for the duration of the event.
・Guests must be responsible for the security of all of their personal belongings.
The festival/event venue operators, organizers, promoters, and artists cannot be held responsible for lost, stolen or damaged possessions or accidents resulting in injury occurring anywhere in the venue during the festival/event regardless of fault or reason.
・The organizer will not use or disclose guests' personal information collected at the time of ticket purchase without consent.
・Single-lens reflex cameras and other cameras of similarly high performance will not be allowed into the venue under any circumstances.
・Selfie sticks and other similar items may annoy other guests are thus strictly prohibited.